Antimicrobial Copper touch surfaces are becoming increasingly common in hospitals, but a train on the Valparaiso Metro in Chile is the first of its kind to be equipped with Antimicrobial Copper hand rails and poles. The move is intended to create a more hygienic environment for the Metro's 18 million annual users and improve the public transport experience.
The new, two-car train can carry up to 800 passengers and is the result of a partnership between Chilean state-owned company Codelco and the world's leading transport company, Alstom. The initiative follows the outfitting of stations on the Santiago Metro with Antimicrobial Copper hand rails, and is planned for extension to other trains and metro networks in Chile.
'Codelco is a world pioneer in developing Antimicrobial Copper projects to improve people's quality of life, especially in the fields of health and public transport,' explains Thomas Keller, CEO of Codelco.
'Improving the travel experience for passengers is in our DNA,' adds July Friedmann, Vice President of Alstom South Cone. 'We're taking the first step, presenting the world's first copper train, and hope that other networks will be interested in the health benefits it can offer.'
Chile's Minister of Transport and Telecommunications, Pedro Pablo Errazuriz, was aboard the train for its maiden voyage and noted: 'This is an important initiative that adds to the progress being made by the Valparaiso Metro in enhancing the travel experience. It reaffirms our commitment to strengthening the strategic role of public transport railways.'
The Antimicrobial Copper hand rails, made by Chilean manufacturers, are a robust copper alloy, which will be hard-wearing and offers a beautiful, instantly-noticeable reminder to passengers that their health is being given top priority.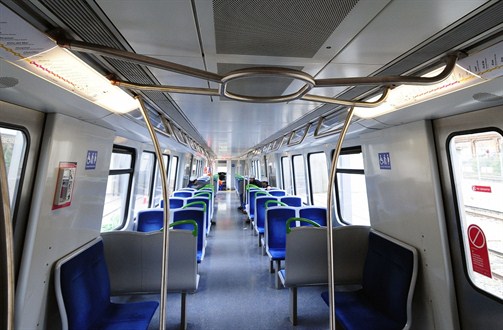 *Laboratory testing shows that, when cleaned regularly, antimicrobial copper surfaces kill greater than 99.9% of the following bacteria within 2 hours of exposure: MRSA, VRE, Staphylococcus aureus, Enterobacter aerogenes, Pseudomonas aeruginosa, and E. coli O157:H7. Antimicrobial copper surfaces are a supplement to and not a substitute for standard infection control practices and have been shown to reduce microbial contamination, but do not necessarily prevent cross contamination or infections; users must continue to follow all current infection control practices.